Imagine having to eat 800 grams of fruits and vegetables daily to gain maximum protection against diseases and premature death. That is exactly what research suggests according to CBSNews.com​.
Unfortunately, fruits and vegetables are not exactly everyone's favorite, and not everyone also has the time to eat that much in a day. This is the reason why juicing has become a health craze many people go for. It is a refreshing and convenient way to let your body absorb nutrients.
Fresh juices have many amazing benefits. They still have the soluble fiber of whole fruits and vegetables, which is helpful in digestion. Aside from that, they have insoluble fiber that aids in lowering cholesterol. Since the body spends energy to convert solid food to liquid, drinking fresh juices also skips that part and saves the body's energy. Furthermore, it is a healthy way to kickstart your weight loss journey.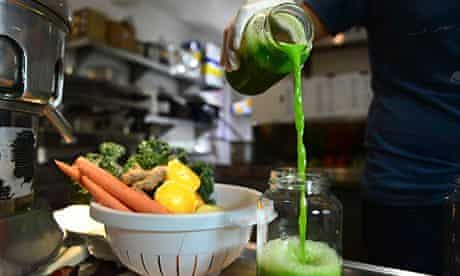 In my book ​Doc Rob's Guide to Better Health and Wellness​, I shared 5 combinations of fruits and vegetables you can try with your juicer in the comfort of your own home.
Carrot and orange​: Carrot and orange make a delicious drink that's rich in beta carotene. Beta carotene is being converted to Vitamin A, which is good for the eyes. It is also beneficial for the lungs & kidneys.
Kale, apple, green grapes, and cucumber​: Kale, apple, green grapes, and cucumber have high water content, which is ideal as a refreshing drink. It's a powerful combination of fruits and vegetables that acts as an antioxidant and anti-inflammatory. Creating an alkaline environment in your body is vital to creating optimal health.
Lychees, peaches, and coconut wate​r: Lychees, peaches, and coconut water is a great combination for people who like something sweet without adding sugar. It is packed with electrolytes for hydrating the body and regulating nerve and muscle function.
Mango and pineapple​: Mango and pineapple are both rich in Vitamin C. This fruity combination is best for digestion.
Tomato, kale, celery, and parsley​: Kale, celery, and parsley are low-calorie green leafy vegetables that act as antioxidants. Combining it with the sweetness of tomato makes it a perfect drink for a healthier diet.
Juicing is a fun and revitalizing way to supplement your diet. Just remember to drink your fresh juice right away to avoid losing its nutrients and potency. While it is best to drink fresh juices with an empty stomach, don't forget that it should not replace your meals.